Fusion Continues Expansion
Irving, TX (July 1, 2008) After extensive planning and construction, Fusion Productions has moved into a new office suite at the Studios at Las Colinas.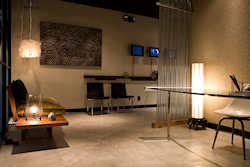 Crocker-Reynolds handled construction of the space which includes a reception/seating area, four spacious offices, a lounge/kitchen area, a tape library room, a video editing bay, as well as a comfortable client screening area for reviewing projects. The entryway door and windows feature frosted glass emblazoned with the Fusion logo. The creative, modern look of the new Fusion suite was designed by Misty Wiebold, founder of M Group Design of McKinney, Texas (www.mgroupdesign.net).
"Misty captured the essence of creativity with an invigorating design which stimulates excitement, motivation, and creative thought the moment you walk in the door," said Fusion president, Todd Sims.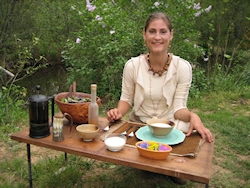 Fusion recently completed shooting the initial six episodes of the first TV series it is producing this year. The rigorous schedule took the production crew to locations in Louisiana, Mississippi, North Carolina, New Hampshire, and Maine. The shoot was logistically challenging, but yielded excellent footage which will now be fashioned into the first six of 26 episodes.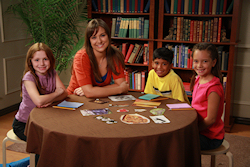 Fusion Productions is pleased to announce that Dallas-area talent Melissa Odom has signed a contract to host the second TV series Fusion is slated to produce in 2008. Melissa will host all 26 episodes of the unique series that focuses on helping parents promote health and wellness in their kids by providing creative, active game ideas, as well as fun, healthy snack recipes. In addition to ongoing projects for corporate clients and starting production on two TV series, Fusion recently completed negotiations for a third TV series to be shot this year. This series will be a reality show focusing on natural childbirth and the modern role of midwives.
The Fusion Production staff has expanded along with its production slate. Fusion recently welcomed John Ames who will serve as Director of Photography. In addition, Megan Ochoa has come aboard as a summer intern along with Andrea Legaspy and Curtis Brooks who have joined the team as production assistants. In the coming weeks, Fusion will be hiring additional staff members including video editors and production assistants.